New safe movies and series every week
Watch directly on all your favourite devices
The New Faith Network app is available for your favourite devices. Do you prefer watching on your phone while being on the road? Do your children watch on your tablet? Or do you choose to cosy up on the couch to watch on your TV? Choose your favourite device below to see how you can watch your favourite films and series.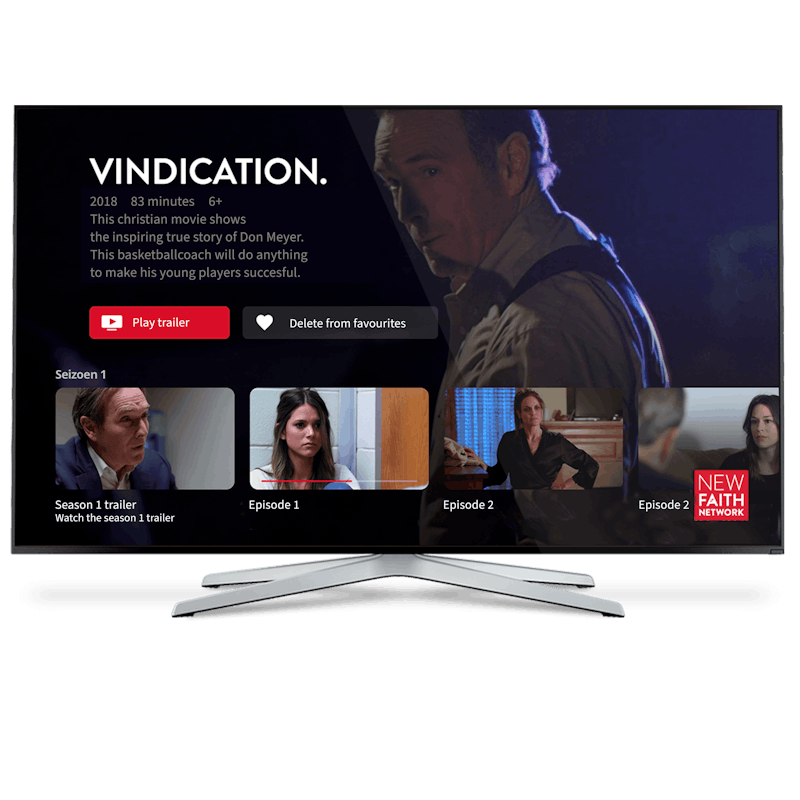 You can now download the New Faith Network app directly on your smart TV. This service is available on the following operating systems: 
Versions of tvOS 12.4.1 to 14.3
Versions of Android TV 7.1 to 10.0
Please note: not all devices of the brands mentioned above allow the installment of apps, even though they were manufactured after 2016/2017. Check the version of your operating system to make sure your TV does support this.
Do you need help? Our customer service will gladly help you.
Brands supporting these operating systems include: 
Apple TV
Apple TV HD (4) October 30 2015
Apple TV 4K (5) September 21 2017
Android TV
Sharp
Sony
Philips
Nvidia Shield
Xiaomi MiBox and MiBox S

Real stories with an important message
The films and series on New Faith Network deal with real-life issues and help us reflect on important themes. How can we rely on our faith to overcome tragedy? They tell stories about love, doubt, hope and loyalty. Thought-provoking stories that move us, guide us and can be real conversation starters. Perfect to watch together, whenever suits you best.
Family-friendly films, series and more
New Faith Network provides a safe Christian environment for the whole family. Our editorial team watches all films and series to make sure they are suitable for your children. Our collection of family-friendly films is growing every week. Watch famous films like The Messengers or animated series like Superbook and The Torchlighters. Who doesn't love a family film night? 
"Finally a safe way to watch films with my family! And the personal stories are so beautiful!"
Sonja
Frequently Asked Questions